Appalachian Craft Center
Average Vendor Rating

Welcome to the Appalachian Craft Center, a haven for art enthusiasts and admirers of handmade crafts. Nestled in the heart of the Appalachian region, our center has a long and storied history of showcasing the incredible talent and craftsmanship of artists from this beautiful part of the country.

Conveniently located at 10 N. Spruce Street, our center is a treasure trove of unique and exquisite handmade crafts. From intricately woven baskets to beautifully carved wooden sculptures, we offer a wide range of one-of-a-kind pieces that reflect the rich cultural heritage of the Appalachian region.

One of the highlights of visiting the Appalachian Craft Center is witnessing the mesmerizing art of glassblowing by the renowned artist, Andrew Montrie. With his exceptional skills and creativity, Montrie brings molten glass to life, transforming it into stunning works of art right before your eyes. The live glassblowing demonstrations are not only captivating but also provide a rare opportunity to gain insight into the intricate process of this ancient craft.

At the Appalachian Craft Center, we take immense pride in supporting local artists and promoting the preservation of traditional craftsmanship. Our center serves as a platform for artists to showcase their talents and connect with a wider audience. By purchasing their handmade crafts, you not only acquire a unique piece of art but also contribute to the sustenance of the Appalachian craft community.

Every item available at the Appalachian Craft Center is meticulously crafted with love and dedication. From delicate pottery to vibrant paintings, each piece tells a story and reflects the artist's passion for their craft. Whether you're searching for a special gift or looking to add a touch of elegance to your home, our center offers an extensive collection that caters to all tastes and preferences.

When you visit the Appalachian Craft Center, you'll be greeted by a warm and inviting atmosphere. Our knowledgeable staff is always ready to assist you in finding the perfect piece that matches your requirements. We believe in fostering a sense of appreciation for handmade crafts and aim to create an unforgettable experience for every visitor.

So, if you're in search of exceptional handmade crafts that celebrate the beauty and heritage of the Appalachian region, look no further than the Appalachian Craft Center. Join us in preserving the rich tradition of craftsmanship and supporting local artists.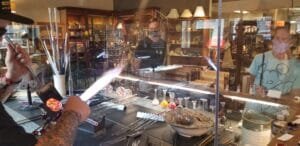 Showing all 2 results