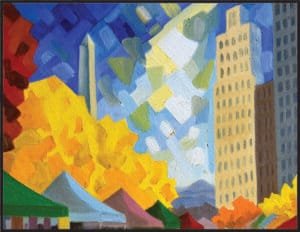 Asheville, North Carolina, is not only known for its stunning natural beauty and vibrant music scene, but also for its thriving arts community. One of the highlights of this artistic hub is Asheville Art in the Park, an outdoor arts and crafts market that showcases the talents of local and regional artists.
Held in the heart of downtown Asheville, Asheville Art in the Park provides a platform for artists to showcase and sell their handmade creations directly to the public. This juried event features a diverse range of artworks, including paintings, pottery, jewelry, textiles, sculptures, and more. Whether you're a seasoned art collector or simply appreciate unique and original pieces, this event has something for everyone.
One of the unique aspects of Asheville Art in the Park is the opportunity to meet and interact with the artists themselves. As you stroll through the market, you can engage in conversations with the artists, learn about their creative processes, and gain a deeper understanding of their inspirations. This personal connection adds an extra layer of appreciation to the artwork and allows you to support the local arts community in a meaningful way.
Visiting Asheville Art in the Park is not just a shopping experience, but also a cultural one. The market is set against the backdrop of Asheville's picturesque streets, creating a vibrant and festive atmosphere. Live music fills the air, adding to the overall ambiance and creating an enjoyable experience for both residents and tourists.
Whether you're a seasoned art enthusiast or someone who simply appreciates creativity, Asheville Art in the Park is an event not to be missed. The market takes place on select Saturdays throughout the summer and fall, allowing you plenty of opportunities to explore the diverse range of artworks on display. From the intricate details of a handcrafted necklace to the bold strokes of a painting, each piece tells a unique story and reflects the talent and passion of the artist behind it.
Supporting local artists is more important than ever, and Asheville Art in the Park provides the perfect platform to do so. By purchasing a piece of artwork, you not only bring a touch of creativity and beauty into your own life but also contribute to the growth and sustainability of the local arts community.